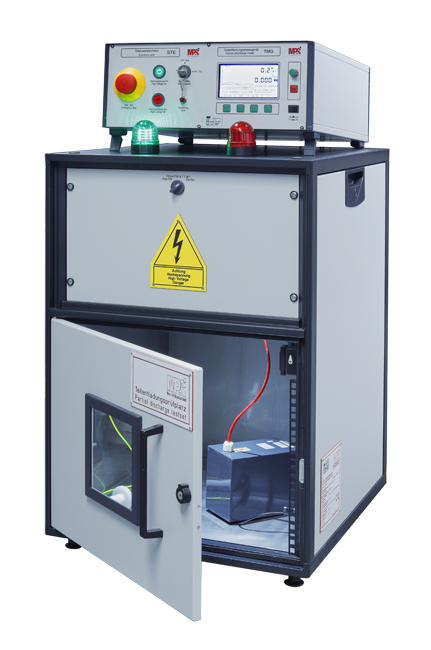 For laboratory- or on-site measurements of partial discharge at medium-and high voltage components according  VDE 0434, IEC 60270, EN 50178, VDE 0884, IEC60747-5-5, UL 1577 and others.
Partial discharge (PD) is a local electrical discharge that occurs in imperfections or inhomogeneities. The partial discharge measurement is a so-called "non destructive test" to determine the quality of insulating materials. On the contrary of pure high-voltage test, th test item is not pre-damaged at low PD levels.
At least one coupling capacitor, a measuring impedance an a partial discharge measuring device (PD-meter) is used for partial discharge measurmenet.
MPS partial discharge test sets and PD-Metres are according IEC60270 and IEC60060.
High voltage (Hi-Pot) and partial discharge tests can be performed according VDE 0884, IEC 60747-5-5, IEC 60664, IEC 61730-2, UL 1577 and others.
Partial Discharge Test System TPP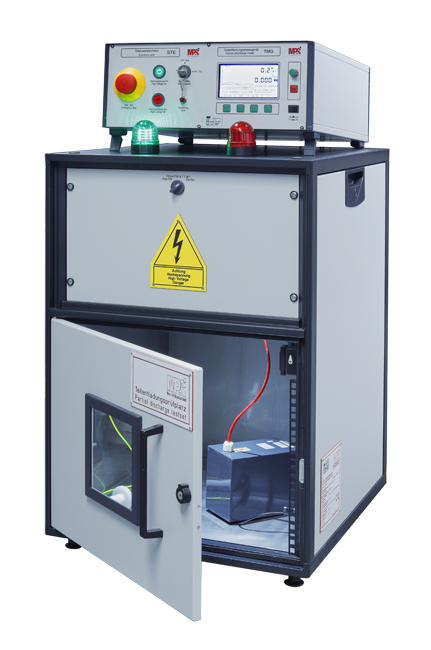 The Partial Discharge Test System type TPP is used for non-destructive insulation and quality testing of electrical components (for example according VDE 0110-1, EN 50178, IEC 60270 and IEC 60060).
The test set enables tests in development, production and quality assurance:
partial discharge measuring device (TMG) with integrated effective and peak voltage measurement as well as current measurement
shielded, PD-free high-voltage part
control unit (STE) with electronic overcurrent shutdown
Our standard test sets are available for test voltages from 3 up to 20 kV. For higher voltage, please get in contact with our sales team. Optional you can get:
Current measuring through test object
built-in high voltage partial discharge pulse calibrator (TPK-H)
Measuring of DC voltage and current
high voltage switch, to measure more that one test items
Partial Discharge Test Set TTS

The new partial discharge test system TTS was specially developed for high-voltage (HI-Pot) and partial discharge tests on semiconductors (opto couplers, digital isolators) in routine testing in accordance with VDE 0884, IEC 60747-5-5 and UL1 577. The partial discharge test system is available for test voltages up to 18.3 kV peak (higher voltages on request).
The partial discharge, the test voltage (Urms and Upeak), the test object current and the capacity of the test object are measured with high accuracy.
The partial discharge test system consists of a control and measuring unit, built into a 19 " housing, with display of the test voltage, the current and the partial discharge. The high voltage generation is located in a high voltage module. This module can be installed in various handlers or in a manual measuring station. Here MPS offers measuring and test systems support with the integration into the customer's own system.
The partial discharge test system is available for development as well as for 100% testing in production with a handler. A manual measuring station for manual assembly is available for developing or testing prototypes. Up to four handlers can be connected to a control computer.
The test system achieves maximum flexibility in connection with the in-house control and logging software MSPS 20.
The control software MSPS 20 is very flexible and has a self-test, report functions and can write STDF files.
New: test volatge up to 18.3kVPeak / 13kVrms available.
Technical data:
available with 1,2 or 4 channels
RS232 and USB interface(ask for IEEE488 and Ethernet)
High voltage module with 7,10 or 13kVrms available
High voltage measurung according IEC60060
Accuracy +/- 1%, +/- 0.5% of the measuring range
Partial discharge measurement according IEC60270
Measuring ranges 2,5, 5, 10, 25, …, 25000pC, auto-range available
Narrow-band-filter from 0,10 up to 2,5 MHz
Wide-band-filter 40/250 kHz, 40/400 kHz, 80-250kHz and 80/400kHz
Accuracy of the partial discharge measurement: +/- 3%, +/- 2% of the measuring range, typically <5% between 25% and 100% of the measuring range
Integrated 5pc and 10pC high voltage pulse calibrator
PD Tester TTS 4 channel test system with handler
PD Tester TTS manual test solution
Partial Discharge Meter (TMG)
The partial discharge measuring device TMG was specially developed under the point of view of clarity and ease of use for the partial discharge test developed according to VDE 0434 and IEC 60270.
The following features are available:
Narrow band filter, tunable from 0.1 to 2.5 MHz
Wide band filters 40-250, 40-400, 80-250, 80-400 kHz
Measuring ranges from 2.5 pC to 25000pC (option 100,000pC)
Autorange and manual setting of the PD measuring ranges
Detection of the phase position, the level and the number of PD pulses. The data can be graphically displayed and processed using the MSPS software.
Different types of display of the measured values, such as bar display, digital or analog display and an oscilloscope function
Suppression of phase-synchronous interferers
RS 232 and USB interface, IEC bus (option)
Special version for measuring the square charge
Peak voltage and Ueff measurement
RIV – measurement in µV according to NEMA 107 / Ansi 63.2 (option)
Partial Discharge Pulse Calibrator TPK
The partial discharge pulse calibrator (TPK) is a battery-operated hand-held device for determining the correction factor in the partial discharge test circuit and for checking the partial discharge measurement. It can also be used to calibrate a partial discharge measuring device.
The test circuit may only be calibrated with the TPK when it is de-energized. The TPK-H can be used for calibrations under high voltages.
battery powered handheld partial discharge pulse calibrator, ranges: 2,5 – 5 – 10 – 25 – 50pC
other ranges on request
rise time <20 ns
Special edition for C2/sec and microvolt
Supply voltage 9v block battery
dimensions (W x H x D) 80 x 145 x 40 mm
Partial Discharge Test Sets –Custom solutions
In addition to the standard version of the partial discharge test sets TPP, it is also possible to implement customer-specific partial discharge test systems.
custom test voltages
customized test rooms, customized to test objects
Higher power or variable frequency of the test AC voltage
additional DC voltage test or current measurements
Connection option for an automatic high-voltage switchover for test items with several tests and test objects
Measurement of several test objects in parallel and automatic selection of defective test objects
DC voltage tests and current measurements
Two shielded high-voltage test rooms with sliding doors
Measuring and control part with built-in partial discharge measuring device, control panel and electronic power amplifier
Integration in production lines or automation systems
Optimization for short test times, e.g. for optocouplers according to VDE0884 and magnetic couplers
personal computer with 

MSPS 20

Integration into the customer's manufacturing systems, e.g. for data export
Partial Discharge Measuring System TEM
For laboratory or on-site measurement of partial discharges on medium and high voltage components according to VDE 0434 and IEC60270
consisting of:
High-voltage coupling capacitors for decoupling the PD pulses

Accessoires

Measuring point switch for 3-phase or multi-channel PD measurement, manually or automatically switchable
Partial Discharge Pulse Calibrator TPK
Software MSPS for 2D and 3D visualization of partial discharge
Shielded test cabins and barriers
Partial discharge calibrator TPK for determining the correction factor in the PD test circuit
Our high-voltage coupling capacitors are a main component of our partial discharge test stations. They serve to decouple the partial discharge impulses and act as a voltage divider, the output voltage of which is matched to our partial discharge measuring devices (with integrated voltage measurement) and peak voltage measuring devices. These high-voltage components are also available separately in their various designs, sizes, capacities and voltage ranges.
dry insulated from 5-50kV, 1nF-20nF
oil-insulated from 50-250kV, 1nF-10nF
Other voltages and capacities on request
Partial Discharge Pulse Calibrator at high voltage TPK-H
The high-voltage-resistant partial discharge calibrator is used to calibrate a partial discharge test arrangement and to determine the correction factor under high voltage. The test circuit can be calibrated both in the de-energized state and when high voltage is applied.
The partial discharge calibrator TPK-H can remain connected to high voltage during the test; it is automatically switched on via the MSPS-20 control software if required. The TPK-H is an optional component of a partial discharge test station and is permanently installed in the test room.
It is available in versions for different charge impulses (usually 5 pC or 10 pC) and can be designed for a dielectric strength of up to 100kV. Just like our TPK, it is battery-operated.
High-voltage proof PD calibrator up to 100kV
Versions with different charge pulses
Pulse repetition frequency approx. 100Hz (optional frequencies on request)
Rise time of the pulse <20ns
Supply voltage 9V block battery